Zero Trust Is Only Part of the Solution. QWERX Goes Beyond.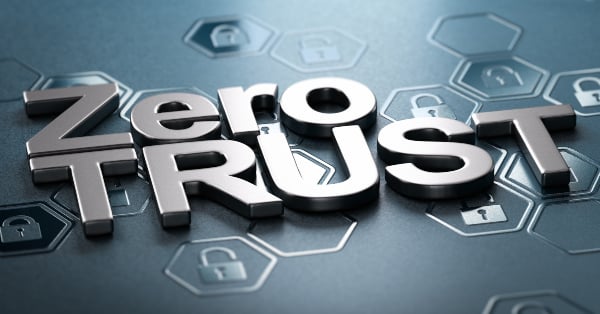 The world can feel especially fraught with uncertainty and danger right now, and in fact, cyber risks top worldwide concerns in 2022. There were many high-profile breaches in 2021, and ransomware came on with a vengeance, targeting many small and medium businesses, underlining the importance of a consistently strong cybersecurity posture.
Business interruption was a close second in top concerns, and considering the supply chain impacts from both problems related to COVID-19 and global weather events, there's a lot that can go wrong. Even while growing your organization in a strong labor market, you could be unknowingly creating an opportunity for fraudsters, with the rise in job scams. QWERX can help you feel empowered once again and focus on things in your control through zero trust architecture (ZTA).
With all the talk of ZTA being implemented in networks, we want to advocate going beyond zero trust, to absolute zero trust.
What does this mean? It means taking the next step: Remove the user from your network security chain. Just as trust should have no role to play in digital security systems, neither does the user. Neither trust nor the user is digital; they have nothing in common with digital systems. They are both artifacts from the analog paradigm and it is time both vulnerabilities are eliminated.
User Trust: The Biggest Issue With Cybersecurity
Phishing and social engineering make up 57% of attacks on small businesses and speak to the aforementioned job scam issue. Insufficient security measures are the driving factor behind 45% of small- to medium-sized businesses saying that their processes are ineffective at mitigating attacks. The frequency of attacks and their targeted nature are concerning aspects, too. Having the latest and greatest in cybersecurity, however, doesn't mean succumbing to partial solutions that are costly and time-consuming. The solution lies in the problem: trust. Because as you've heard from QWERX before, secrecy has no role in cybersecurity.
What Is Zero Trust Architecture?
Both trust and the users have become targets and vulnerabilities that attackers leverage. Trust today is misplaced, resulting in a hacker being able to leverage the trust conferred upon a stolen credential and purloined admin privileges to plunder the target.
By removing the always vulnerable human element from the equation, you no longer rely on trust or secrecy spectrums. Security becomes much more defined. Adversaries can no longer exploit human emotions or fake identities. In digital systems, digital security can be met 100% by digital means. It can be monitored and measured digitally. The same cannot be said for either trust or human users.
While many organizations spend precious time training employees on how to detect and handle suspicious links, QWERX automatically prevents a protected network from opening the link to the unauthorized attacker, regardless of what credentials or other information the attacker tries to use to gain access. QWERX uses a handshake that no unauthorized device can make, effectively removing trust and the user from the equation.
Federal departments and agencies have until FY2024 to implement zero-trust security goals, and a whole-government approach to cyber strategies will theoretically eliminate inconsistencies in protections. The benefits of ZTA are numerous, and paramount among them is consistency in how security is handled.
Zero Trust Is Only Part of the Solution
Cybersecurity and Infrastructure Security Agency (CISA) built a zero-trust model around five pillars: identity, devices, networks, applications and workloads, and data. Don't allow one aspect of your organization to be vulnerable. Remove the user and trust from each step and pillar. The pandemic paved the way for mass zero-trust adoption, and QWERX can help your organization move to the next level beyond zero trust, absolute zero trust.
Contact us today to explore our cybersecurity technology and how QWERX provides the entire solution by removing users and trust from the equation. Don't just comply with cybersecurity policies; be ahead of the game, and most importantly, protect your organization while saving time and money.
Amanda Costello is a freelance journalist in Omaha, Nebraska. She has been published in AudioFile Magazine, The Omaha World Herald and CNN. You can view more of her work here.
Sources
Help Net Security - Cyber Risks Top Worldwide Business Concerns in 2022
Forbes - Cybersecurity in 2022 - A Fresh Look at Some Very Alarming Stats
CNN - Job Scams Are on the Rise. Watch Out for These Red Flags
Cybersecurity Dive - White House Targets Security 'Paradigm shift' With Federal Zero-Trust Strategy
Cybersecurity Dive - Remote Work Chipped Away at Zero Trust Skepticism, Increased Adoption