Medical Device Cybersecurity: Challenges, Risks and Solutions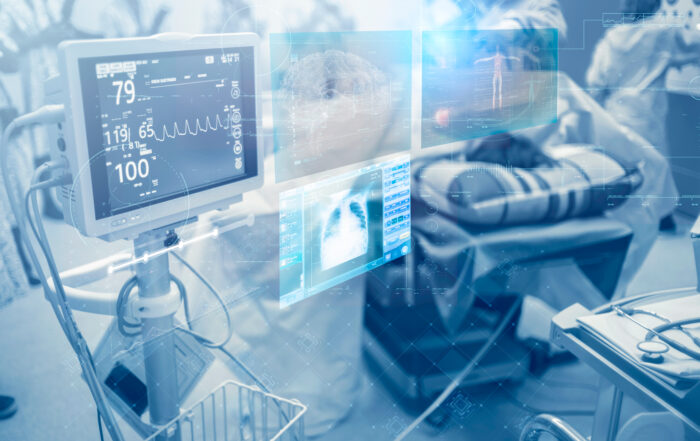 With cyber threats on the rise and network perimeters expanding, medical device cybersecurity is critical. A cyberattack against hardware or the network can devastate a healthcare organization's reputation and put patient safety at risk. As the number of medical endpoints increases, hackers will continue to find ways to exploit vulnerabilities.
Current medical device cybersecurity solutions are lacking, leaving data and devices hackable. Although the Food and Drug Administration's (FDA) new guidance establishes a framework, healthcare organizations are vulnerable now and must act. QWERX protects your medical devices now by requiring multiple handshakes per second. Moreover, quantum-proof technology defends against future threats. Learn how your medical devices put you at risk and how to eliminate these concerns with a zero trust network.
Risks Faced by Medical Devices
Increased data access improves diagnosis, decreases costs and supports remote monitoring investments. However, significant amounts of sensitive information, especially health care data, attract criminals. And connected inhalers, insulin pumps and wearables make large amounts of data accessible to providers and sophisticated threat actors.
Hackers use the data to get illegal medications, craft fake insurance claims and target victims with medical-related scams. They may sell it on the dark web or hold protected health information (PHI) for ransom. Health care information cybersecurity executives shared real-life threats with Deloitte, including how malware infected an automated medication dispensing system, resulting in it being offline for many hours, and how wireless chatter caused an IV pump to provide incorrect dosage rates.
An analysis of more than 10 million medical devices at hospitals and medical facilities found that 53% of the hardware had a known vulnerability. In addition, "one-third of bedside devices were identified to have a critical risk." Unfortunately, the most common threats are default passwords and settings, with "21% of devices secured by weak or default credentials."
The Cost of Medical Device Cybersecurity Failures
Between 2020 and 2021, cybercriminals doubled their attacks against healthcare institutions. Indeed, a cybersecurity report found that 88% of organizations reporting a data breach in the past two years "said at least one connected device was a contributing factor to the breach." These security incidents increased patient length-of-stays and led to the theft of patient information.
To combat these issues, spending on security will continue to increase. GlobalData estimated that the medical device cybersecurity sector "will grow from $869 million in 2020 to $1.2 billion in 2025 at a compound annual growth rate (CAGR) of 7.3%."
Key Regulations and Compliance Information
In February 2022, the National Institute of Standards and Technology (NIST) and the National Cybersecurity Center of Excellence (NCCoE) shared their final guidance for creating a holistic risk-mitigation strategy for remote patient monitoring architecture. It suggests that health care delivery organizations (HDOs) must review their network security, address patient safety threats and guarantee proper device performance.
The FDA also introduced a Secure Product Development Framework (SPDF). It directs how cybersecurity should encompass all aspects of a product's life cycle. Consequently, as frameworks and guidance change, working with experts with extensive technology and regulatory policy knowledge is crucial.
How QWERX Solves Medical Device Security Challenges
External network breaches stem from public key infrastructure (PKI) and static certificates. Indeed, any medical device or network requiring credentials is vulnerable to hacking, theft and spoofing. QWERX technology eliminates the risk by using dynamic, ever-changing credentials for permanently securing hardware. It's easy to deploy across your medical device ecosystem, as it installs directly on network devices and is managed through a central console.
QWERX Enterprise Secure Perimeter (QESP) creates a Zero Trust network using frequently rotating symmetric keys that are never exchanged or stored. It improves medical device cybersecurity by preventing adversary attacks using quantum-proof keys and collecting threat intelligence to understand trends and vulnerabilities.
Benefits of Using QWERX To Secure Your Medical Devices
Already the sheer number of devices impacts hospitals and medical systems. According to experts, large hospitals can have as many as 85,000 non-IT medical devices and 15 to 20 networked devices per bed. Furthermore, Gartner estimates that "by 2023, the average CIO will be responsible for more than three times as many endpoints" as they managed in 2018.
QWERX reduces the challenges associated with securing your hardware by eliminating the need for an individual to remember or keep a password secret. It integrates seamlessly with your existing tools, alleviating outdated software and firmware concerns. The devices themselves perform the handshake to authenticate. Not humans. And unlike PKI, there isn't an algorithm to hack.
Health care organizations can reduce patient safety issues related to connected equipment that's life-sustaining or life-supporting. They also lower the chances that a compromised device will bring down the hospital network, resulting in service disruptions.
Protect Your Medical Devices With QWERX
Connected medical hardware enables healthcare organizations to serve patients better. Significant threats exist, though, affecting patient safety and the institution's reputation. Ensure your medical device cybersecurity is top-notch with quantum-proof device authentication. Learn more about QWERX by contacting us today.
Jessica Elliott is a business technology writer specializing in cloud services and cybersecurity. Her work appears in U.S. News, Business.com and Investopedia.
Sources
Deloitte - Networked Medical Device Cybersecurity and Patient Safety
Cynerio - 2022 State of Healthcare IoT Device Security Report
IBM - Security X-Force Threat Intelligence Index
Healthcare Dive - Hospitals Have Low Level of Accountability for Connected Device Breaches
GlobalData - Cybersecurity Spending in Medical Device Sector Will Reach $1.2 Billion by 2025 Driven by Escalating Health Data Breaches
National Institute of Standards and Technology (NIST) - Securing Telehealth Remote Patient Monitoring Ecosystem
Med Device Online - FDA Releases Guidance on Cybersecurity in Medical Devices
Healthcare IT News - Hospitals Lack Consistent Cybersecurity Plan for Networked Medical Devices
Healthcare IT News - Cybersecurity Pro: Networked Medical Devices Pose Huge Risks to Patient Safety
Gartner - Gartner Identifies Top 10 Strategic IoT Technologies and Trends