Struggling With Cybersecurity Technology Integration? Let QWERX Do the Heavy Lifting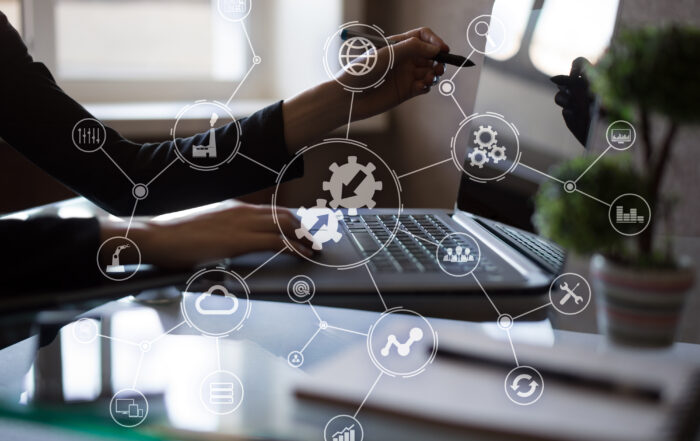 Technology integration is critical to cybersecurity software implementation. But connecting hundreds or millions of devices is resource intensive. Incorporating new applications into your existing tech stack can strain your IT team and disrupt workflows. These obstacles increase your expenses, reduce productivity and impact deployment timelines.
Finding tools that work seamlessly with multi-cloud environments, IoT devices and existing infrastructure can be even trickier. Fortunately, QWERX is device, operating system and network agnostic. Your business can benefit from cybersecurity technologies immediately without implementation headaches.
The advantages extend beyond deployment, allowing your team to focus on mission-critical tasks while saving your company money. In addition, QWERX is backed by a team with ample experience in policy management, and the Enterprise Secure Perimeter (QESP) console supports your detailed procedures. Learn how cybersecurity technology integration can help your organization achieve current and future endeavors.
Speed Up Cybersecurity Technology Implementation
Information technology staff often groan over the thought of deploying a company-wide cybersecurity solution, like identity and access management (IAM). The undertaking can be fraught with challenges. IT teams must take a hands-on role in technology integration, potentially leaching resources from other equally important projects.
A lengthy process can make getting buy-in from IT staff harder while leaving your networks and devices vulnerable. However, the QWERX authentication solution installs on your existing infrastructure. You don't need separate software or complex workarounds, even if your operating systems and networks differ between locations.
Unlike some authentication tools, QWERX QESP is SaaS and cloud agnostic, meaning fewer concerns over legacy apps and older email systems. IT teams can onboard devices quickly without unexpected hiccups by eliminating complicated integration processes.
Increase Operational Efficiency
In an ideal world, systems and devices work harmoniously, streamlining the user experience. But passwords and the need for secrecy leave staff locked out of applications and networks. LogMeIn's Global Password Security Report found that "employees at larger companies have an average of 25 passwords to manage compared to 85 passwords for those at small business."
Each issue with credentials, from forgotten passwords to lost device replacements, may require a call to your IT staff. Precious minutes are wasted as your IT team determines the problem app, device or service provider. Don't forget the hours required to develop policies and train staff on the latest best practices.
QWERX removes the inefficiencies associated with public key infrastructure (PKI). Once devices are enrolled, reauthentication happens within seconds. There aren't any passwords to recall or multiple steps to log in. In fact, human intervention isn't required, giving your company the benefits of automation, including increased productivity and operational efficiency.
Avoid Common Barriers to Growth
According to Flexera, 89% of respondents have a multi-cloud strategy, and 57% want to move more workloads to the cloud in 2022. But not all authentication tools work in a multi-cloud environment. Moreover, business growth may require adjustments to software and networks, as IT adds many devices and network endpoints. Fast growth and even, at times, calculated growth can lead to fragmented technology stacks.
QWERX is a customizable solution suitable for large enterprises with global locations and physical office spaces with only a few personnel. It fits your operational needs now and provides the flexibility required to scale in the future.
Explore QWERX To Simplify Your Technology Integration
Holistic cybersecurity solutions make your business less vulnerable to threats while ensuring compatibility with future technology investments. Moreover, your IT staff can concentrate on core business objectives instead of devoting resources to technology integration. Discover how cloud-native, centralized network security can improve your organization by contacting QWERX.
Jessica Elliott is a business technology writer specializing in cloud-hosted solutions and cybersecurity. Her work appears in U.S. News, Business.com and Investopedia.
Sources
LogMeIn - New LastPass Research Finds Password Habits Remain Key Obstacle to Business' Security
Flexera - Cloud Computing Trends: Flexera 2022 State of the Cloud Report